At the Caltrain board meeting on Thursday June 4, the liveliest subject of discussion was the proposed configuration of electric trains scheduled to roll out in 2020.
The largest number of public comments, in the board meeting room and on social media were in favor of keeping at least one bathroom (although each bathroom, legally required to accommodate passengers with wheelchairs, would take the space of 8 seats). Â Older passengers, younger passengers, sports fans, emergencies – these were some of the more common reasons to keep a bathrooms on a service where the average trip is ~40 minutes long.
On the subject of bike space, Caltrain announced a notable financial commitment –  $3 Million – to increase bike lockers and other offboard bike facilities, to keep up with the growth of passengers using bicycles for the first and/or last mile of their trips. But will that be enough?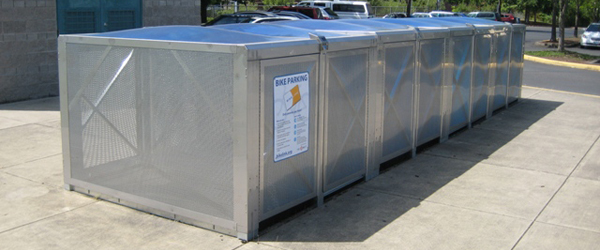 Caltrain is proposing to maintain the same 9:1 ratio of seats to bikes as today (see this blog post for an analysis of the various bike options). Â Caltrain's proposal would mean a much greater share of people using offboard facilities – five to ten times the share of people than today. With today's limited bike lockers and bike share, the vast majority of bike users bring their bike on board.
We've got some analysis suggesting that Caltrain may need more like $10 Million to keep up with the growth in bike use.  Compare that to over $600 million that is being proposed for High Speed Rail to enable platform compatibility and keep up with Caltrain capacity needs.  $10 million may seem like a lot, but compare that to the value of 5-10% more seats on the trains.
The Silicon Valley Bicycle Coalition and San Francisco Bicycle Coalition have moderated their "ask" from supporting 20% bike space on the train, to supporting 20% bike space overall, with 16% bike space on the train (compared to Caltrain's proposed 11% bike space).
Caltrain staff predicted in their board presentation that if more bike space is allotted onboard, then fewer passengers would take the train and overall ridership would go down.  Caltrain's proposal already includes an assumption of more standing room in the future, as the electric service becomes more of BART-like, frequent, metro-style service.
Based on experience so far, this blogger thinks that instead of driving, more people would continue to ride Caltrain, and crowding would continue to get worse. According to this model, the 16% bike space ratio could lead to about 2/3 of passengers standing – similar BART but with average trips twice as long.
What do you think?
* Should electric trains have at least one bathroom per train? or more?
* Should Caltrain increase the amount of bike space on board, with a consequence of fewer passengers, or having 2/3 of passengers stand?
* If Caltrain is planning for more people to use offboard bike facilities, should they plan to fully fund this?
Share your thoughts in comments – and to the Caltrain board, Board@Caltrain.com.
Here is an updated model that looks at the potential consequences of different amounts of bike space on the train, in terms of standing room, the amount of offboard bike facilities needed, and the cost of offboard bike facilities. Â Feel free to review, ask questions, suggest improvements.